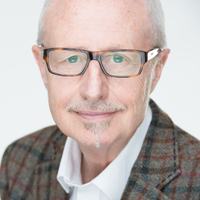 Throughout the business life of Chris Pollard - since he left school in 1971 he has always been irresponsibly responsible - and still is to this day! His extraordinary skill is in knowing the importance of building relationships and bringing people together to create business opportunities.
Perhaps you would like to know a little about the person who is our Managing Director for Eurasia. His background is not traditional - remember - "Irresponsibly Responsible"
Chris walked out of school in 1971 with no qualifications but with the offer of a job at a department store in London, which he secured himself with no help from anyone. Recognizing that he did not want a structured business life in a shop, he took a job in the Fashion Textile Industry as a showroom assistant. For the next 30 years he worked for himself with a variety of Textile suppliers from around the world. During the mid 70s, alongside textiles, he had a market stall for 2 years and in the early 80s imported cars from Mercedes, re-sprayed them fancy colors, stretched them and exported them.
During late 70's through the 80's Chris started travelling regularly on business. Firstly to Europe, followed by New York, India, Turkey and in the early 90's - the Far East. Starting in 2003 he spent the next 7 years living between the UK and Turkey. Along the way Chris learned about different cultures, their foods & wines and of course their languages. In 2010 he moved back to the UK spending a few months a year in Turkey. Through voluntary charity work with Tomorrow's People he was introduced to a businessman and became a partner in a Communications business allowing him network and develop new relationships.
Chris took on various Ambassador roles for charities, spoke on and co-presented 2 shows on a Kent Internet radio station - and most recently, did his first spot reviewing papers on BBC Radio Kent.  With great love and a twinkle in his eye, he claims the proud title of managing his wife's brand - Author Miriam McGuirk – Shattered Dreams & Scorpions at Midnight.
 
Chris' philosophy can be summed up as:
If you do one thing today:
Remember - People do business with people so introduce someone to someone with no financial benefit to yourself in mind.
and finally:
If you see an opportunity - go for it. Life is for living - go have some fun! Be irresponsibly responsible and see what happens...
If you'd like to reach me directly, just email me.